Tired of the rain ?  Pop in for a relaxing tasting time.  Enjoy our new tasting menu with the recently added Altamont series wines.  They are younger wines, 2013s and 2014s..
President's Day weekend   Feb 17  to 20 Visit on your list??
Barrel Tasting 2 Wines..   Bottle it Your self.. Syrah $12..$10 Club $2 off per bottle for a Case..   New Pouring Menu !!!   Special Winter Discount on 4 Wines.. Livermore Zinfandel.. Contra Costa Cabernet.. Lodi Mourvedre.. S F Bay Sangiovese.. Discounts from 15% to 35 % .   Open 12 to 5 Fri,Sat,Sun and Mon
Also, on the menu is our new GSM…   Grenache, Syrah and Mourvedre…  created by our talented Tasting Room staff who often experiment with the wine open on the tasting bar, blending personal favorites that amaze their fellow staff members and patrons, alike.  Sometimes they spill the beans and sometimes not…  It is a personal blend created in the winery by Lynn Z.   What's in it ?? "None of your business"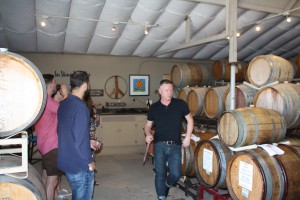 As always we have our futures experience where you can "steal" & taste wines directly from the barrel and purchase them by the 1/2 or full case at a significantly reduced price!! These are constantly changing so if you haven't seen us in awhile there are new ones every month!!!
New wines are listed on the main site page..