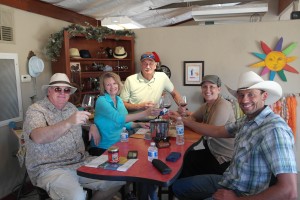 We are offering wine tasting in our Tasting Room next to the barrel room at the winery.  The room is        2100 sq. ft. of our winery operation. In addition to great wines, you will enjoy sitting at small tables with friends and enjoying a panoramic view of the Altamont Pass and the rolling hills dotted with slowly revolving windmills,  livestock and wildlife.  You  have a chance to chit chat with friends and be served our selection of wines directly to you.  If you prefer, we also have a beautiful patio area where you can sit outside and still receive the same direct to you service while enjoying the beautiful Livermore weather.
Wine News:
Feb. 11th and 12th  is the release  weekend for the 2013 Contra Costa  Merlot ..   Futures .   The current Futures offered are  a 2013 Petite Sirah and a 2013 Petite Verdot.. $192 a Case, $108 a half case
Futures News:
2013 Petite Sirah and a 2013 petite Verdot….  $192 a Case and 4108 a Half Case..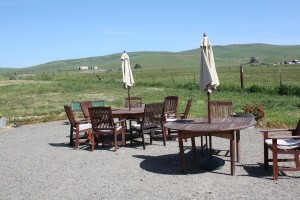 Starting in 2002 we joined the new age of quality vintners in the Livermore Valley Wine Country.  We currently offer at least 12 small lot wines produced using traditional practices.  Some of our constants include Cabernet Sauvignon, Merlot, Petite Sirah, Zinfandel, Syrah and a traditional Port to name a few. Our tasting list is not restricted to just reds, however, we always includes a crowd favorite of our Grand Cuvee Sparkling Wine and often have a Sauvignon Blanc & Chardonnay for these hot summer days and often list  unusual varieties such as Sangiovese, Barbera, Charbono, Grenache, Pinotage, Mourvedre, Tempranillo, Viognier and Rose' of Pinot Grigio among others.
You are invited to taste our wine in barrel and bottle. We produce engaging, affordable wines, which reflect their true varietal character. Our wines are made with skill, passion and the spirit of el Sol.
Winter Tasting Room Open Saturday  - Sunday,  12 to 5  
[Weekdays please call for appointment; Closed Wednesdays ]
To ensure we provide a our normal personalized service for all of our guests, reservations are required for groups of 8 or more. To make a reservations please call 925-606-1827 at least 24 hours in advance.